Starting in February, the new 2023 Spring Training baseball season is upon us in Phoenix. As one of only two states to host the MLB's spring training season (the other being Florida), it is a unique treat to enjoy each year. This year, you can expect a schedule full of action, talent and tons of fun for the whole family. Here is what you can expect in 2023 with MLB's spring training season in Phoenix.
What is the Cactus League?
The spring training season in Phoenix is referred to as the Cactus League. Each year over 1 million fans attend these games and this year will be no different. The league is composed of 15 teams from around the league that make Phoenix their home for the season. Ten facilities will host these games, making it the largest concentration of professional baseball complexes found anywhere in the United States.
This year games begin February 24th, 2023 and last through March 28th. The best part of the 2023 spring training season in Phoenix is that there are hundreds of games to choose from and lots of teams to cheer on. There are hundreds of games to choose from and lots of teams to root for. The facilities or stadiums also have lots of character.
While some are nearly brand new, others have been around for years. Depending on what experience you are looking for, spring training season is gearing up for a great year.
Which Spring Training Stadium is the Best in 2023?
Speaking of stadiums, you might be wondering which one is the best to catch a game this year. The truth is, there are many to choose from and it all depends on your preference. A full ranking of the stadiums can be found here. Keep in mind that these are based on 2019 statistics since that is the last year that attendance was not significantly affected by Covid restrictions, etc.
The top ranking stadium appears to be Sloan Park. It is a very popular stadium as it is home to the Chicago Cubs. Many Cubs fans live in Phoenix or are not afraid of traveling from Chicago to cheer on their cherished team.
In second place and based on attendance, Salt River Fields at Talking Stick takes the spot. This stadium is the newest facility (built in 2011) and of course hosts hometown favorite, the Arizona Diamondbacks along with the Colorado Rockies. On average, 9,925 fans visited this stadium for a game.
Don't be fooled by the numbers either. A very popular stadium with great consumer feedback is the Surprise stadium which is home to the Kansas City Royals and Texas Rangers. The seats all have great, intimate views with many opportunities to interact with the players. With over $23 million in recent upgrades, the stadium itself is very robust with new food options, renovated clubhouses, resurfaced playing surfaces and more.
Spring Training Stadium Food Ranking
Another important aspect to many fans with regard to baseball games comes down to the food! Of course, anyone can choose to visit one of the thousands of local restaurants prior to the big game, however grabbing a hot dog or bag of popcorn at a baseball game is almost necessary.
The major league winner here is the Peoria Sports Complex. Not only is it home to the Mariners and Padres, it is home to the best concessions throughout the Cactus League. What makes it so special? The Power Alley is where the action is at. This area is festive and full of specialty food options. They have everything from fish tacos, gyros, burritos and dishes just for kids like a PB&J or hot dog.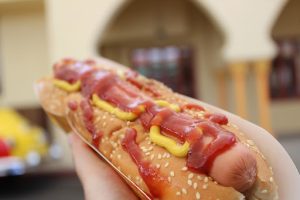 Other stadiums in the league are not too shabby either. The Surprise Stadium offers menu options like barbecue, funnel cakes and cheesesteaks. Concessions at the Salt River Field Stadium are not too shabby either. You can expect options like burgers, chicken sandwiches, varieties of hot dogs, pizza, street tacos and so much more.
Final Thoughts on Spring Training Season in Phoenix in 2023
The spring training season for 2023 in Phoenix is going to be fun, entertaining and delicious. All you need to do is pick a team, find a game and roll up your sleeves for some fun in the sun. The crowds always have a good time and many people travel from out of state just to catch these games. Which team will you cheer on this season?