What sets Phoenix apart from most cities is the great weather, especially in the winter months. People flock here to escape freezing cold snow and ice. Hence why Phoenix is home to so many winter visitors. There's no shoveling snow, scraping icy windshields or winter weather advisories to worry about.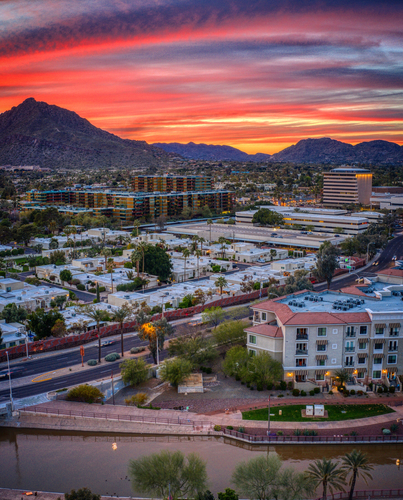 If you find yourself showing up in Phoenix just for the best, most mild winter weather you just might be a winter visitor. This lifestyle is attractive for many people, but also comes alongside many issues. One issue winter visitors in Phoenix come across is finding seasonal internet services for their homes. Many big cable and internet companies do not have a solution for your situation. However, Phoenix Internet does have one such solution.
What Other Seasonal Internet Service Providers Offer to Winter Visitors
As a winter visitor, you might find it difficult to research out what each internet service provider offers for your unique situation. To sum it up, most internet service providers offer low-speed service of which you will still need to pay the full price year round. They like to bind you to a tight contract at this full-price, bundling your service with other things even though you only use the internet service for a portion of the year.
What Phoenix Internet Offers for Seasonal Internet Services
As you scour the internet or make phone calls to internet service providers, you might start to feel a little deflated. This happens often as many big internet service companies just do not acquiesce to the winter visitor. The good news is that you really just need to make one phone call to Phoenix Internet.
As a local company, Phoenix Internet has been providing top-notch seasonal internet services to customers all over the valley. We understand the winter visitor and want to make sure you have access to the internet when in town. What does Phoenix Internet offer specifically for seasonal internet service? As a residential customer, you can expect internet speeds of 20-50Mbps depending on your area. You can also opt to turn off your service for up to nine months per year and just pay $10 to hold your spot. That's it!
It does get even better. Phoenix Internet is not a mobile hotspot or satellite internet. In fact, what we offer is fixed-point wireless technology that many rural residents can enjoy as well. You might be surprised to learn where we can offer seasonal internet services. Do you live out in Apache Junction, Wittmann or Morristown? Even residents in those cities can get access to Phoenix Internet seasonal internet services.
Wait, there's even more! Phoenix Internet also takes the hassle out of pricing by offering flat monthly rates. There are no bundles or hidden fees. Residential internet services start at just $50 per month.
Why Choose Phoenix Internet for Seasonal Internet Services?
Choosing Phoenix Internet for seasonal Internet services is one of the best decisions you can make. Our customers enjoy the flexibility of seasonal internet service without having to pay full-price while not using the service.
What else does Phoenix Internet offer for seasonal internet services? First off, you can expect great customer support with live technicians to help when needed. Since Phoenix Internet is local to the Phoenix valley, you can expect to talk to someone right in town. Next, you can expect installation to be speedy. Once you arrive in town, you can have Phoenix Internet up and running in just a matter of days. Lastly, you can expect guaranteed uptime. This means that our high-speed internet is fast with 99.999% guaranteed "uptime" success rate.
How Do I Get Started with Seasonal Internet From Phoenix Internet?
Getting started with seasonal internet service from Phoenix Internet is easy. Click here and choose qualify now or call us directly at 602-234-0917. You can see if our fixed point wireless technology is in your area. Our customer service representatives are ready for your call.
Final Thoughts on Best Seasonal Internet Services in Phoenix
If you have the luxury of being a winter visitor in Phoenix then you also can take advantage of Phoenix Internet for your seasonal internet service. With fast speed, quick installation and access to temporarily suspend your services while out of town, there is no reason to not sign up today. We keep costs down so you do not have to spend a fortune when your internet is not in use. Check it out today.