If you have lived in Arizona long enough, you know that there is an adventure around every corner. People from all over the United States flock here for mild winter temps, unique attractions and the one of the natural seven wonders of the world (a.k.a. The Grand Canyon). If you are a resident, it is easy to forget some of the most wonderful things to do and see in this great state. Here is the list just for you. Check out the ultimate Arizona bucket list for Arizona residents.
Your Northern Arizona Bucket List
1. Hike the Grand Canyon – You basically cannot do anything else worthwhile in the great state of Arizona unless you visit the Grand Canyon. Take a hike. Bring your camera. This has to be the very first thing on your list to check off. This iconic canyon is unique in that it stretches an impressive 227 miles. The entire Grand Canyon National Park is larger than the state of Rhode Island! Hiking the Grand Canyon is an absolute must!
2. Sunset over Horseshoe Bend – In addition to the Grand Canyon itself, making a point to watch the sunset over Horseshoe Bend is an additional must. Head south of Page to see this horseshoe-shaped sight.
3. Monument Valley – Head to the Utah/Arizona border for a picturesque view of the valley.
4. Emerald Cove – Home to sparkling emerald waters, kayaking the Black Canyon is a must!
5. Skiing at Snow bowl or Take a Chairlift – Skiing or just visiting Snow bowl also makes the list. If you prefer to steer clear of skis, go in the off season for a trip to the top to enjoy amazing views of San Francisco Peaks and volcanic mountain ranges.
6. Petrified Forest National Park – A truly unique experience of exploring fossils, badlands, buttes, mesas, ancient petroglyphs, wildlife and more – this park is vast and glorious.
7. Drive Route 66 – Get your kicks on Route 66! Connecting Chicago to Santa Monica, CA. Route 66 is one of the original highways stretching across the U.S.
8. Window Rock – Another Arizona landmark and treasure, this is quite literally a rock with a hole through it.
9. Meteor Crater – Have you ever seen a real meteorite impact crater? You can if you head to near Flagstaff.
Your Central AZ Bucket List
10. London Bridge – When you head to Lake Havasu City, visiting the London Bridge is a must. Once used to cross the River Thames in England, this bridge was brought to enjoy over Lake Havasu. Slide Rock – Head to Sedona to take a plunge down a natural water slide among the stunning red rocks.
11. Tuzigoot, Montezuma Castle – This ancient structure features cliff dwellings and a ton of history to explore and enjoy.
12. Aravaipa Canyon – A unique canyon that is home to creeks, cliffs, various flora, fauna and bighorn sheep.
13. Mogollon Rim – A glorious sight of the most far reaching scenery in the whole state, you will want to bring your camera to this one.
14. Jerome Ghost Town – A beautiful town full of spooky histories and haunted sights.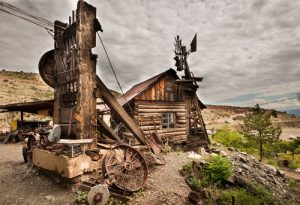 Your Phoenix Metro Area Bucket List
15. Camelback Mountain – The most popular and impressive hike of the whole state.
16. Piestewa Peak – Another tough hike, but scenic views on top.
17. Rawhide – Only open to the general public on signature holidays, this old western town is full of entertainment and food.
18. Cerreta Candy Co. – Famous chocolates and candies located in Glendale.
19. Odysea – The ocean comes to the desert at Odysea Aquarium.
20. Organ Stop Pizza – Home to the largest Wurlizter pipe organ in the world and delicious pizza.
21. Taliesin West – The winter home of architect Frank Lloyd Wright, open often for special events and tours.
22. Desert Botanical Garden – A garden full of desert plants from around the world.
23. THe Heard Museum of Native Cultures and Art – Artifacts and art of the Native American cultures.
24. Street Art in Roosevelt – Stroll through this popular art district.
25. Saguaro Lake – The perfect place for boating and skiing.
26. Salt River – Incredibly popular for tubing and catching glimpse of wild horses.
27. Phoenix Zoo – Wildlife living right in the heart of Phoenix.
28. Hole in the Rock at Papago Park – Take an easy hike for a scenic geological formation and sparkling city views.
29. Scottsdale Museum Contemporary Art – A small and modern museum.
30. Wrigley Mansion – Tour the home of the famous gum maker.
31. Tovrea Castle – a mini "castle."
32. Rosson House – Tour a Victorian home from the 1890's.
33. Orpheum Theater – Enjoy a show that was originally home to traveling vaudeville acts.
34. Spring Training Game – Baseball comes to Arizona for spring training and the games are incredibly fun.
35. Schnepf Farm – Pick fruit and enjoy home baked goods.
36. Bats take flight 40th St and Camelback – Mexican Freetail bats fly out of the flood control channel.
37. Arizona Biltmore – Spend a day or the night at this historic hotel built in 1929.
38. Grady Gammage Auditorium – Enjoy a broadway show.
39. MIM – The Musical Instrument Museum has both modern and contemporary art.
Your Southern Arizona Bucket List
40. Skiing at Mount Lemmon – Take a chance to ski at America's southernmost ski destination.
41. Mission San Xavier del Bac – A historic Spanish Catholic mission.
42. Kartchner Caverns- Carved out of limestone and filled with speleothems this cavern is fun to explore.
43. Picacho Peak – A more difficult trek with cables and catwalks, but a must-do for the adventurer.
44. Chiricahua National Monument – Extensive hoodoos and balancing rocks.
45. Tombstone Wild West Show – Enjoy reenactments of the wild west.