Celebrating the holidays does not get any more magical than visiting a town in Arizona that is full of Christmas cheer. You might be surprised to know that many towns in Arizona love the Christmas season and they put on many festivities for all to enjoy. If you are looking for events, Santa sightings, lights and magic, then this is the list for you.
1. Flagstaff
Most people think the North Pole is too far north to visit, but for Arizona you just need to travel a little ways north to Flagstaff. This town is full of Christmas and is home to the North Pole Experience. This great family tradition takes children on a magical trolley ride into a Christmas portal of fun. There is the opportunity to meet Santa Claus, build toys alongside Santa's elves and even enjoy a fresh baked cookie from Mrs. Claus. There's even Santa's secret hanger where is magica sleigh resides for children to admire. Does it get more magical than that?
You can make the magic stay a little longer if you head just a little west of Flagstaff for the journey of a lifetime with the Polar Express Experience. Located in Williams, Arizona, the Polar Express Experience has been delighting children and families for years.
Everyone can board the locomotive in pajamas and follow along with Billy and the book. There is singing, dancing, cookies and hot cocoa. Even Santa himself boards the train to sprinkle around that Christmas magic.
The magic of Flagstaff doesn't have to end there. Additionally you can make a trip to tour and visit The Riordan Mansion State Historic Park. This beautiful and historic mansion steps it up for Christmas. Enjoy an hour long tour and see it decorated from head to toe in garland, wreaths and a towering fir Christmas tree.
Remember, Flagstaff and the surrounding area is also known for its snow and outdoor activities. If you hit it just right, you can get a dose of sledding, skiing and snow tubing. Check them out.
2. Lake Havasu City
For the family looking for that old world charm, just head to Lake Havasu City in December. This Christmas town is known for London Bridge and it holds a Festival of Lights every year. The bridge is remarkable and guests of the town are encouraged to take a stroll under this landmark while enjoying the holiday spirit.
In addition to the festival of lights, Lake Havasu City also boasts a Christmas experience like none other when it presents the Boat Parade. For nearly 40 years this event has taken place and has been selected as one of the top 100 events in the U.S. by the American Business Association. You and your family can enjoy as many as 50 boats that are brightly lit up with their holiday glow. Ooh and awe over them as they cruise through Bridge water Channel and under London Bridge. Be sure to dress accordingly as this town might be a lot cooler than the valley.
3. Mesa
Staying in the valley does not mean you won't find Christmas cheer! Head to Mesa this year as the town transforms into a wonderful and magical Christmas escape. Each year there are many events hosted throughout the city for all to enjoy.
One of the first stops should be in Downtown Mesa at Merry Main St. Festivities light up in November and include all the glittering and shimmering lights one could hope for. There will be an ice skating rink, Christmas markets for the shopper in your family, and of course, appearances by Santa Claus. If you waltz around Pioneer Park you will be sure to also find Jack Frost's Food Truck Forest! Lots of yummy treats and food for the family. What a magical time!
For more spectacular lights in Mesa, you can head over to the Mesa Mormon Temple for the Mesa Temple Garden Christmas Lights. While it was put on hold in 2021, it will make its comeback in 2022. Everyone from all faiths are welcome to attend this spectacular and FREE event.
4. Prescott
Last but not least is the quaint town of Prescott. In fact, it is the only city on the list that holds an official title. In 1989, Governor Mofford declared Prescott as Arizona's Christmas City. Do you want to know what makes Prescott so magical during Christmas? Let's find out.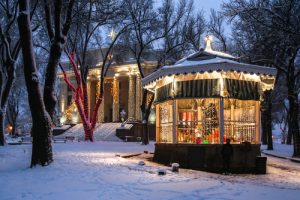 To begin with, the city has massive amounts of light displays. If you head over to the Prescott Gateway Mall, you will find the Enchanted Christmas display. Next, head to Downtown Prescott where you will find the Holiday Light Parade and the Prescott Chamber of Conference Christmas Parade. Other events include the Annual Courthouse Lighting, Wild Lights and Animal Nights at the Heritage Zoo and the Sharlot Hall Museum Annual Frontier Christmas. Even the Prescott Resort and Conference Center shows their Christmas spirit by hosting the Annual Gingerbread Village Display.