While the month of February is typically cool, the heat of love and romance cranks up the temp this time of the year. If you are looking to add a little romance around Valentine's Day, there is no shortage of great ideas to take advantage of in Arizona. Beyond the fancy dinners, there are some other ways to celebrate love and romance this February in Arizona.
1. The Desert Botanical Garden
A romantic stroll among the beautiful desert gardens in Arizona should be at the top of your list. There is no better place to take this walk than through the Desert Botanical Garden. Just head over to Globe and take your date by the hand to enjoy over 4,400 species in this living collection. With over 140 acres and several trails, this romantic date could take up the better part of a day.
In addition to the trails couples can enjoy the Garden Shop, Butterfly Pavilion and Schilling Library. The library is home to botanical resources, plant guides and landscaping books Be sure to check out the website for special events and updates.
A dreamy and romantic castle tour won't be too far of a stretch in Arizona. Tovrea Castle that sits just off the 202 highway in the heart of Phoenix is open for tours. This castle is nearly a century old and truly a jewel of the Sonoran Desert. It boasts four stories and 5,000 square feet of granite, history and mystery. Scenic backdrops of the city and well manicured cactus gardens make this castle a must see. Imagine whisking your loved one around this enchanting fortress as king and queen!
Some couples prefer a little more adventure and outdoor fun. If this sounds like you, perhaps a trip to Saguaro Lake should be on your list. Kayaking this lake will ensure one of the most beautiful landscaped dates. Gorgeous desert flora, stunning canyons and even a striking desert desert sunset might be on the menu. Daily launch times vary, so check for availability first.
4. Visit The Musical Instrument Museum
A unique treasure to Arizona, The Musical Instrument Museum is sure to be an out-of-the-box type date. This experience will entertain any music enthusiast. This museum has a collection of over 8,000 instruments from over 200 countries! You and your date can stroll through each section, taking in all the rich history of music. Each gallery is diverse in history and culture. Additionally, the museum has ongoing events for a different experience each time you visit.
5. Hike Camelback Mountain
Another great outdoor activity to take the adventurer on is hiking Camelback Mountain. This scenic yet rugged climb is truly exhilarating. The hike is intense, but so are the views from atop the mountain. Pack a picnic lunch and sturdy shoes for this date.
6. Take a Day Trip to the Grand Canyon
Another great way to spice up Valentine's Day is to take a trip to the Grand Canyon. What could be more grand or more romantic? As one of the Natural Wonders of the World, The Grand Canyon is perfect for any couple looking for a new adventure this February. The best part is that there are many ways to enjoy the Grand Canyon.You can take a jeep tour, hike, camp, or go horseback riding. The natural beauty of the Grand Canyon will make any person swoon for sure.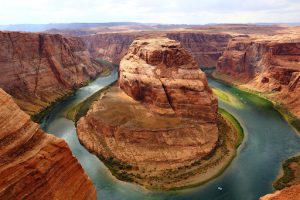 7. Take a Desert Jeep Tour
Romping in the desert on a jeep tour is yet another way to spark some romance. While you can take a tour in the Grand Canyon, there are other cities in Arizona that also offer these tours. A little offroading a lot of nature makes for a really exciting date.
8. Rent a Paddle Boat at Encanto Park
Located in Uptown Phoenix, Encanto Park is a great option for a date. Renting a paddle boat and enjoying the views can be very romantic and relaxing. You can get the sights of the park, desert landscape and city lights all wrapped into one.
9. Visit the Queen Creek Olive Mill
The Queen Creek Olive Mill offers a unique experience since it is the only working olive mill in all of Arizona! Take a tour, sample the product and even dine right on site. You will see the process of making olive oil and why it is so good for you.
10. Go Horseback Riding
The last great option for a romantic date in February in Arizona is to go horseback riding.There are still plenty of places to go horseback riding in the state. This traditional western activity brings the past back to life with options for different riding scenarios. Nearly every place offers anyone with little to no experience the chance to saddle up and grab the reins.
Bottom Line
Has this list given you some new ideas for a great romantic date in Arizona? Going beyond the traditional fancy dinner can be adventurous or relaxing. The state is full of romantic spots, activities and great scenery. We can almost guarantee that your date will agree!