It's time to wake up early, or just a little early. brunch time is becoming one of the most popular times to eat out with friends, family and co-workers. The trends these days are flights of different types of alcohol, loud music bumping a DJ booth and an eclectic array of tasty dishes. Some of these spots are so hot that the wait list can be over an hour long. Therefore if you want to hit up any of these places, check to see if you can join a wait list via an app. Here are the best places to brunch in Arizona.
The Hash Kitchen, Scottsdale, AZ
The Bloody Mary bar at The Hash Kitchen is so impressive that it sparked its own Instagram competition, the "Build Your Own Bloody Mary Battle." At the bar, patrons can construct their own custom Bloody Mary with a range of toppings like oysters, ravioli, sliders, and bacon. The brunch scene at The Hash Kitchen is lively and features a live DJ, adding to the excitement. Additionally, their menu items are creatively named and include brunch Bruschetta, breakfast lasagna, and cannoli pancakes, which are popular among diners.
Prep & Pastry, Tucson, AZ
Prep & Pastry is a top brunch spot in Tucson, offering a comprehensive menu, a vibrant Bloody Mary bar, and food made with fresh local ingredients. Its menu stands out with dishes like the delectable cast iron duck confit, savory breakfast poutine, and flavorful sweet potato hash. The signature mimosas, including the fruity prickly pear and the elegant prep royale, are also highly sought after. Despite its popularity, the brunch crowd at Prep & Pastry is always lively and worth the wait for a memorable brunch experience.
The Social on 83rd
Social on 83rd in the West Valley offers a brunch experience that can't be missed. Despite its compact menu, it packs in a variety of delicious options, including the house-made pastry strudel. This gourmet twist on pop tarts changes weekly based on the chef's seasonal ingredients and imagination, sometimes filled with lemon curd and served with blueberry coulis, elevating the humble pop tart to new heights. Among the savory options are classic dishes like avocado toast, chilaquiles, country fried New York strip steak, and burritos. The brunch menu is complemented by an extensive selection of mimosas. Weekend brunch is served from 9am to 2pm and is made even livelier by a DJ spinning on the patio starting at 10am.
Chelsea's Kitchen, Phoenix, AZ
Visiting Chelsea's Kitchen comes with high expectations, as it's part of the prestigious LGO restaurant group. LGO is responsible for many of the top names in the local restaurant scene, and Chelsea's Kitchen is a shining example of their culinary expertise. With its chic ambiance, the restaurant boasts a brunch menu filled with exquisite and appetizing dishes such as tuna tartare and guacamole, fresh shrimp ceviche, and succulent prime rib. The full bar serves signature cocktails, and guests are even treated to a complimentary cookie upon departure.
Sugar Jam the Southern Kitchen
Dana Dumas' restaurant draws in regulars with its large portions of Southern brunch staples like chicken and waffles, biscuits and gravy, and grits. The spacious, light-filled cafe has an industrial vibe with bistro decor, and a lively atmosphere with a DJ playing music. Brunch is served Wednesday to Sunday, with Friday brunch featuring a DJ from 9am to 3pm Come with a big appetite and don't forget to bring home a to-go box or a pie for later.
MartAnne's Burrito Palace, Flagstaff, AZ
At MartAnne's Burrito Palace, there's no need to wait for lunch for delicious Mexican cuisine – enjoy it during brunch! This popular brunch spot offers a variety of authentic Mexican dishes such as huevos rancheros, breakfast burritos, and the highly-regarded chilaquiles. The fun atmosphere, complete with local artwork and quirky decor, only adds to the dining experience.
Nook, Tucson, AZ
Nook, a top brunch destination in downtown Tucson, offers a cozy atmosphere and exceptional food. Opened in 2015, the restaurant has quickly gained recognition for its local and exotic dishes. With a menu that's sure to have a favorite dish, customers rave about the BLTE, a beautifully crafted sandwich with an over-medium egg, bacon, arugula, and sweet tomato jam.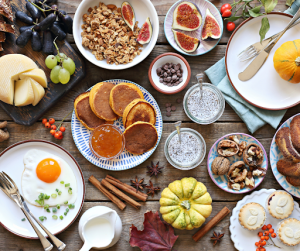 The Local, Prescott, AZ
The Local serves high-quality food in a casual atmosphere in a small town. Their brunch menu boasts made-from-scratch dishes with fine local ingredients, including pastured eggs and meat, and features Southwestern options like their signature breakfast burrito. Don't miss a meal at The Local for breakfast, brunch, or dinner.
SumoMaya
SumoMaya in Scottsdale offers a unique brunch experience combining Mexican and Asian cuisine. Start with a basket of pan dulce and mini churros. Standout entrees include the carne asada scramble and pork al pastor pad Thai. For $35 per person, enjoy unlimited shared plates and one entree. Bottomless bloody Marys, mimosas, micheladas, or draft beer is an additional $20 with unlimited refills. Brunch is available on Saturdays and Sundays from 10 a.m. to 2 p.m.
Mesa Grill, Sedona, AZ
Mesa Grill offers unbeatable views of Sedona's stunning red rocks, and it's located next to the airport, making it an ideal brunch destination. Enjoy the best of Southwestern breakfast cuisine, including the popular beef brisket hash, huevos rancheros, and the ultimate Sedona scramble, all while watching planes come and go.