It is officially spooky season as we enjoy the month of October and the haunting spirits that come along with the season. If you are looking for a place in the state to get absolutely terrified this year, then you have come to the right place. From haunted hotels to spooky restaurants there are chills and thrills for anyone in your family. Are you brave enough in 2022 to check out these incredible haunts? There is only one way to find out! Check these out firsthand to see for yourself.
1. Aravaipa Canyon
Safford, AZ.
When you arrive to Aravaipa Canyon you might not be struck immediately with terror, spooks or anything haunting. In fact, it is a gorgeous canyon with amazing diverse desert flora and landscape. It is picture perfect and almost relaxing.
What you will eventually find out is that this area has a brutal history with many deaths. On April 30th, 1871 a vigilante party of 140 American, Mexican and O'odham men began an attack on the Aravaipa and Pinal Apache people. Over 144 ment, women and children were mutilated and killed in this canyon.
While your visit won't be as terrifying, you still might get a few goosebumps or hairs standing up on the back of your neck. It is not known if any of these people haunt the lands, but it definitely will give you the spooks in 2022.
2. Hotel Congress
Tucson, AZ.
Staying a night at Hotel Congress in Tucson might not seem spooky at first. However, this particular hotel has quite the scary past. To begin with, it battled a raging fire in 1934 when at the same time authorities were on the heels of apprehending gang leader John Dillinger and his men.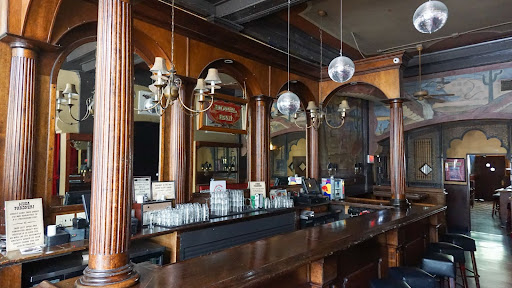 Room 242 is spooky as well. A young woman took her own life there. Many people since then have reported paranormal activity in that particular room and throughout. If you are looking for a fright, perhaps this hotel has it in store for you.
3. Haunted Hamburger
Jerome, AZ.
The Haunted Hamburger in Jerome, Arizona doesn't have just a spooky name. It also has a spooky past. The rumor is that the building is haunted. From originally being a miner's boarding house to a private residence and now a residence, the building has quite the past.
If you are brave enough to dine there, the food will likely be just as good as the strangeness said to haunt the building. There might be odd noises, objects moving on their own or even ghostly images caught in a photo. Are you brave enough to eat here?
4. Bloody Basin
Carefree, AZ.
Hopping on the I-17 and heading north toward Prescott will give you a great scenic route to many destinations in Arizona. One thing you will surely pass is an exit for Bloody Basin. On March 27th 1873 lots of blood was indeed spilled in this area.
It was named the Battle of Turret Peak. The U.S. The Army ambushed a camp that led to the death of between 25-50 Native Americans. Take the exit and see for yourself if this is indeed a spooky site.
5. Jerome Grand Hotel
Jerome, AZ.
Stop on by the Jerome Grand Hotel for perhaps the most noteworthy paranormal activity on the entire list. This hotel is well known for spooks and thrills. Before it became a hotel, the Jerome Grand Hotel was a hospital and asylum. As you can imagine, it is the perfect backdrop for spirits haunting in every corner.
The colorful past includes the ghost of an elder miner said to be hanging around the second and third floor of the hotel. Additionally, the spirit of a young boy and an old lady dressed in white like to give you a fright. Lastly and most famously, the spirit of the caretaker is said to play tricks on visitors. He died in the 1930's and it is reported he likes to have fun with guests in the elevator. He was found at the bottom of the shaft with a broken neck and believed to have been murdered.
6. Ghost City Inn
Jerome, AZ.
Most Arizona residents know that Jerome is a spooky city. So it is no wonder that this city makes the lists several times. Another spooky spot is the Ghost City Inn. Ghostly figures and unseen forces shutting doors have been reported by guests. If you want a spooky hotel to give you a few scares, this is the one for you.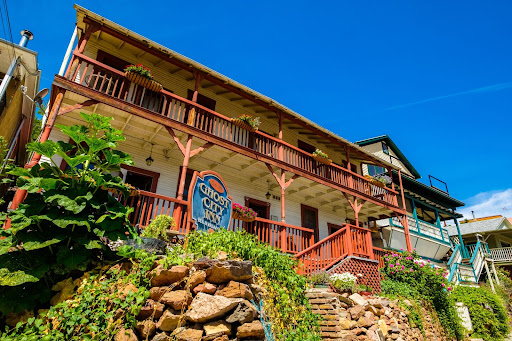 7. Hotel Monte Vista
Flagstaff, AZ.
Flagstaff also has some scares and spooks that make the list. Hotel Monte Vista is one of those places to visit in 2022. A famous tale of a bellhop who won't stop working, even after his death has been reported several times. Apparently, if you head to room 210 you just might hear a voice announcing that your room service is ready. Head to room 305 and you might also catch a rocking chair that makes its way around the room. Do you dare spend the night?
8. Yuma Territorial State Historic Prison
Yuma, AZ.
Historic state prisons are easily a spooky site! Yuma Territorial State Prison is no exception. It operated from 1876-1909 and as you can imagine, held a variety of prisoners. Between housing these criminals and dealing with diseases, overcrowding, infestations, etc. it was no lovely place to be. It is estimated that nearly half of all inmate deaths were due to tuberculosis. It is just the place to scare you in 2022.
9. Copper Queen Hotel
Bisbee, AZ.
The Copper Queen Hotel in Bisbee has its fair share of spooks. It has been rumored that various spirits visit the hotel since it finished construction in 1902. These include a former prostitute that worked in the hotel named Julia Lowell. She took her life in room 315 after falling in love with a customer and he rejected her.
The spirit of a young boy is said to also haunt the hotel. His mother worked at the hotel, but he ended up drowning nearby in the San Pedro River. Besides these two special guests, it is said that other spirits hang around the hotel as well. Are you ready for this kind of fright?
Final Thoughts
Arizona definitely has spooky places to visit this year. From hotels, to canyons and prisons, there is an interesting amount of backdrops to choose from. Which one do you think will scare you the most?