Each year Arizona reports nearly twice the national average of drownings, especially for children. This preventable tragedy is something that most families are aware of, but might not be sure how to fully prevent. Even children who are fully capable of swimming can have an accident.
This summer, families across the state can stay on their toes with these pool safety tools and tips. The more strategies and tools you and your family implement, the better chance you will have at enjoying a summer full of swimming and pool safety. Check out these top pool safety tips for 2023.
Poolside Adult in Charge: Whistleblower
What you may not know is that sometimes children can drown right in plain sight! Essentially when a group of people get together, it can be assumed that someone else is watching all the kids. Mix in a few adult beverages and sometimes a struggle beneath the water goes unnoticed.
A very quick and easy remedy is to have one adult be the "whistleblower."
Simply give a whistle to a designated person in charge to wear around their neck. They will be the official lifeguard for the time being. When that person needs a break, they can hand off the whistle to the next adult. This way, everyone will always know who is in charge of keeping an eye on all the children.
It is primarily children ages 1-4 years old who are most at risk of drowning. Be sure to take extra precaution with this age group. Do not let them be far from the adults in charge. Additionally, do not rely on floaties, wings or noodles to keep them afloat.
Pool Fences
By law in Arizona, if you have a pool and any children under the age of six living in your home, you must have a fence around your pool.
If you have children living in your home under the age of six, Arizona law requires you to have a fence around your pool. The barrier must be at least 5 feet high, with no openings within the fence greater than 4 inches. For complete specifications on pool fences in Arizona, check this out.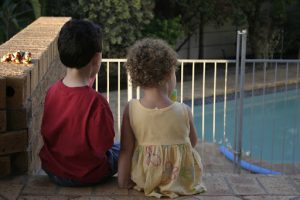 Keep in mind that a barrier around your pool will be a good deterrent, but kids are crafty and can find ways to get over them. You will want to not give your child an incentive to hop over the fence. Ideally, you should always put away all pool toys, keep the fence locked at all times, and be sure to block access to any hot tubs as well. You will also want to keep benches, chairs and other climbing objects away from the fence.
Pool Alarms
Another method to help prevent pool drownings is to use a pool alarm. Children who are clever and sneaky would benefit from this extra step. Even children who seem to never be interested in the pool can wander quietly out the door and into the pool area. It can happen quickly. This is especially true when both parents are actually home but they each assume the other one has them in their sight.
Here are some of the best pool alarms to try in 2023:
Swim Lessons
Swim lessons are a must for children, especially if you have a pool at home. It is incredibly important to teach them the dangers of the waters and to respect their pool at home. The good news is that you can find a company that provides lessons or you can have a professional come to you and provide private in-home lessons.
Remember, teaching your children to swim is ideal but not a fail safe. Always consider a fence and alarm as well. Just because a child knows how to swim doesn't mean they can't drown. They can also injure themselves trying to get into the pool. Either way, the more tools you have the more secure your family will be.
Learn CPR
In addition to keeping your home pool safe, it is wise to learn the art of CPR. Learning CPR could come in handy. It is never a waste of time to learn. You could save someone's life by learning CPR and other basic first-aid skills. Check out hands-on training in Phoenix before you regret not doing so.
Bottom Line
Keeping your children safe around pools and water is imperative if you live in Arizona. Beyond just teaching your children to swim, having safety measures in place is critical. Consider always having a plan when you swim together, investing in a fence and setting an alarm. Together, everyone can lower the drowning rate as long as proper precautions are taken.