There aren't a lot of rural internet options out there that aren't slow, throttle your data or are exceptionally expensive. When it comes to rural internet provides, you usually need to rely on satellite internet service (finicky) or running wires directly to your property (expensive). Phoenix Internet offers complete, rural internet service that's fast, affordable, and reliable. Here's what you need to know.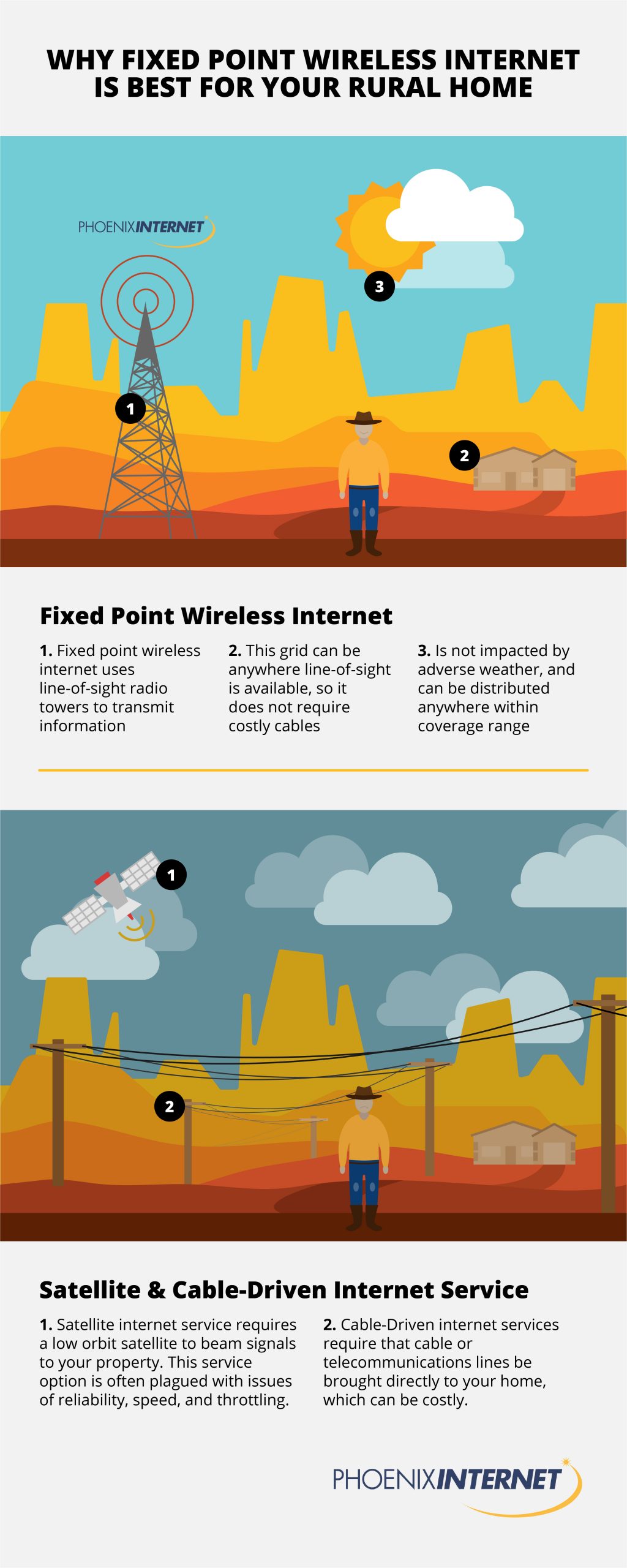 What is Fixed Point Wireless Internet?
You're probably familiar with traditional, cable-driven internet services, which require that cable or telecommunications lines be brought directly to your home. An alternative to this is satellite internet service, which beams signals from low orbit satellites to your property. But fixed point wireless internet is a new type of wireless altogether.
Fixed point wireless internet uses line-of-sight radio towers to transmit information. Since this grid can be anywhere line-of-sight is available, it doesn't require costly cables. It's not impacted by adverse weather, and it can be distributed anywhere within coverage range.
And that makes it one of the best internet options for rural areas. Rural areas aren't just costly to get to, but they can be difficult to get to, in terms of terrain. Having telecommunication lines run to these areas can cost tens of thousands of dollars, and this isn't always a cost that can be spread out over an entire community. Rather, an individual homeowner will often bear the burden of having the first installation within the area.
And while satellite internet services are available in most areas, they are often plagued with issues with reliability, speed, and throttling. These aren't problems that rural homes will have with a fixed point service.
Why Should Rural Homes Use Fixed Point Internet?
There are a lot of reasons why fixed point internet is the best solution. It doesn't have the drawbacks of traditional rural services, and it also has many of the benefits of conventional broadband services. Here's a short list of why rural homes should use fixed point internet:
Fixed point wireless internet is more reliable than satellite services. Satellite services

can be disrupted by cloudy weather

; fixed point internet cannot. Satellite services tend to be slower, and they are more likely to be throttled if you use a significant amount of data.

Fixed wireless internet

is cheaper than cable or telecommunications services, because nothing needs to be installed except for the receiver itself. In fact, the installation itself is so quick that you can get running with a fixed point service almost immediately.

Fixed point internet is less expensive than many other options, starting at just $50 a month for up to 25 MBPs. Both satellite service and traditional telecommunications lines will be more expensive than that.

Fixed point internet can achieve high speeds, suitable for streaming, playing video games, and working. With up to 25 MBPs speeds, most people will be able to do anything that they want to do, even stream multiple videos at a time.
For rural homes, fixed point internet service can be installed quickly and affordably, and it's intuitive and it's easy to use. Fixed point technology is also improving all the time, and steadily becoming a popular solution that might be the future of the internet altogether.
Entire rural communities can use fixed point internet service and fixed point wireless throughout, making the communities themselves more attractive and affordable. Ultimately, there are few options for rural internet. But fixed point wireless can give all the advantages of traditional internet service without the associated costs.
Key Takeaways
Fixed point internet is the most affordable and reliable option for rural locations.

With fixed point wireless internet, you don't need cables run to your home.

Not only is fixed point internet reliable, it's also fast enough for virtually any use.
Are you looking at rural internet providers? Contact Phoenix Internet today for a quote.