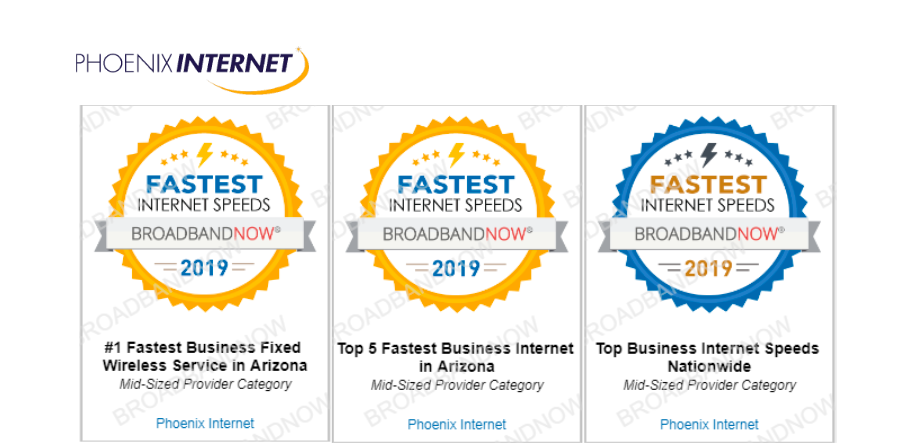 For Immediate Release
Phoenix, AZ | April 26, 2019- Phoenix Internet is proud to announce that we have been awarded in three categories for BroadbandNow's 2019 Internet Service Provider Awards! According to BroadbandNow's Jasmine Chung: "BroadbandNow helps millions of consumers find and compare local internet service providers, and our 2019 awards recognize national, regional and local providers delivering outstanding products and services."
#1 Fastest Business Fixed Wireless in Arizona

Top 5 Fastest Business Internet in Arizona

Top Business Internet Speeds Nationwide
It is through the incredible support of our customers here in Arizona that we've been honored with this National recognition, we are grateful and humbled to be your hometown Internet Service Provider, providing Fast, Reliable Internet Service #WhereOthersDont since 1996!
About Phoenix Internet
Founded in 1996, Phoenix Internet provides fast, reliable high-speed Internet access to residents of the Greater Phoenix area. When people search for high-speed Internet options in the Greater Phoenix area, we are the local Internet providers who provide service #WhereOthersDont. Phoenix Internet's facilities-based fixed-point wireless network is available to an estimated 3.6 million people, making it the 10th largest residential fixed-point wireless provider in the U.S. by coverage area, and the largest in Arizona.
Phoenix Internet is a d/b/a of Gutierrez-Palmenberg, Inc., a respected Phoenix engineering firm with over 20 years of successful business experience.
About BroadbandNow.com
BroadbandNow is a website that helps consumers find and compare Internet service providers in their area. When we're describing it to friends and family, we usually say: "it's like Kayak for Internet service." To make sure our data is up-to-date; we crunch millions of rows of data every year from public and private datasets and manually collect tens of thousands of data points from providers. All this data allows us to build the most accurate public Internet service database online. For more information on what makes us tick, see the BroadbandNow mission statement, or visit our broadband data page for a peek under the hood.