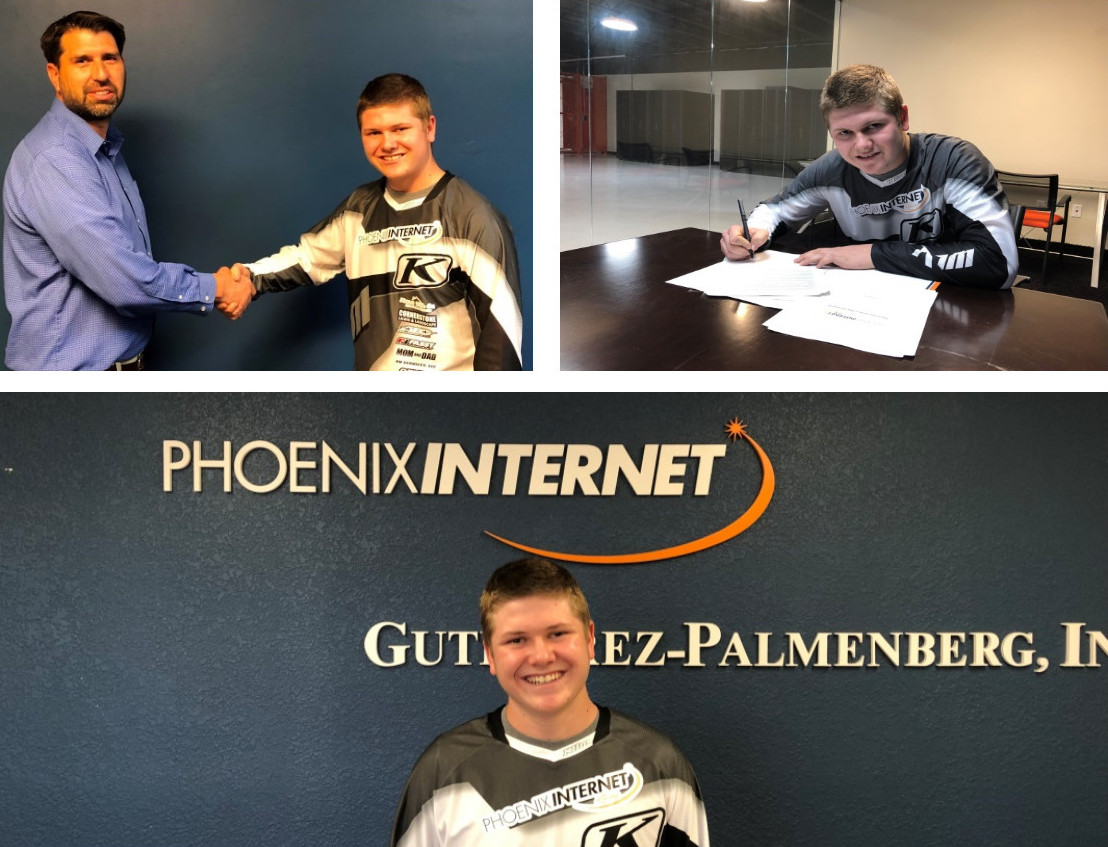 Upper left: Noah Tidball with Phoenix Internet President Andy Gutierrez.
Upper right: Tidball signs his sponsorship agreement with Phoenix Internet
Bottom: Noah Tidball at Phoenix Internet's Corporate Office on March 7, 2019
For Immediate Release
Phoenix, Arizona (PhoenixInternet.com) March 7, 2019—Phoenix Internet has announced the signing of a sponsorship agreement with AMRA Racer, Noah Tidball of Morristown, AZ for the 2019 racing season. Tidball, 17 has been riding since he was four years old, and racing competitively as early as age seven. Noah competes in several race classes including: Enduro, Hard Enduro, Endurocross, sprints & hair scrambles. Don't worry we had to look up what those mean too!
We sat down with Noah and his mother Heather shortly after the agreement was signed. After learning a bit about what "Enduro" racing entails we asked Noah: Why does he do it?
---
"Just being out there means so much for me, just being able to ride those obstacles."
---
That's what it comes down to isn't it? It's about overcoming both rough terrain and life's obstacles through speed, tenacity & perseverance. That's what made sponsoring Noah a very natural move for Phoenix Internet.
Noah, like many teens in more remote areas of Arizona is home-schooled. The very demanding racing schedule combined with Morristown's distance from the nearest high school made this make sense for his family. "A lot of places there's no Internet. That makes things hard. I go to school online and in Texas there wasn't even cell coverage!" Noah commented referring to his last race on March 4th. "That means pushing hard when we get home or too and from(races) to stay caught up."
For families like Noah's: fast, reliable Internet connectivity is mission critical to their children's education. Heather was quick to point out: 
---
"We're happy to have Phoenix Internet! It hasn't gone down for us, we've had no issues since we signed up!"
---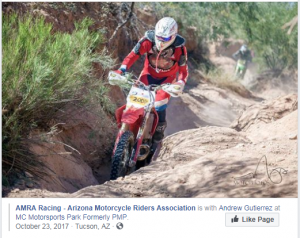 Andy Gutierrez, President of Phoenix Internet and an Enduro racer in his own right was on hand for the signing. Gutierrez, who has competed in such races as the infamous Baja 500 added:
---
"Phoenix Internet is very proud to sponsor Noah. He's a great young man with a bright future and a true competitor on the track. Just like us, he gets over all of the obstacles with speed and wins!"
---
This Saturday March 9th Noah will be competing in AMRA Round 8 Copper Classic at San Manuel, Arizona fully fitted out in his Phoenix Internet Racing gear! We'll be following Noah all year with blogs from the track, videos on our social media and tons of awesome pictures! If you're going to the race be sure to drop by the Phoenix Internet Racing table!
Look out for number 75 this Saturday, and for fast, reliable Internet service #WhereOthersDont look out for Phoenix Internet!