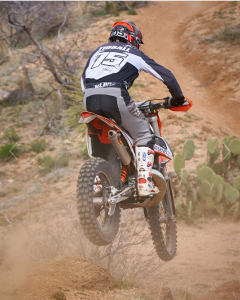 The Rev-Limiter, Decatur, TX March 3rd 2019
Noah Tidball is off and running! Starting out on March 3rd with the 'Rev limiter' in Decatur, TX Noah discovered that there would be a few bumps along the way to launch the 2019 racing season or in the lingo of the sport "Send It":
"I had an amazing time at the rev limiter and learned a lot for future hard enduros. The first Moto, lap 1 wasn't too hard as the mud and water hadn't hit any of the hard spots but lap 2 was a completely different story everything was covered in mud from all 300 riders.  Everything got 10 times harder and made one of the hills take what felt like 30 minutes to get up. When I finally got up it the rest of the lap flew by. I came out 13th in my class and 26th overall which qualified me for Moto 2, day 1."
Day two brought with it all new challenges though as Noah would find, weather changes everything.
---
"The 2nd Moto was crazy with all the mud from Moto 1 and now it was misting so everything was even wetter than before. Not even 2 minutes into the race I snapped my clutch lever to the perch. I thought my race was over but luckily I have an amazing group of people helping me, they ran and got me a lever while my Dad (Matthew Tidball) took the broken one off. After getting that fixed I went out and felt amazing till I crashed and broke my lever again. I rode it out and finished in 74th. Overall I had a great time and had an amazing learning experience and will work with what I learned to come back stronger."
AMRA Round 8 San Manuel, AZ March 9th 2019
The harsh lessons Noah learned in Texas paid dividends at San Manuel:
"I had an amazing time at this last race. It was definitely a change in pace from the last race at the rev limiter hard enduro. Although the major change in pace I felt super solid and felt at home going fast and holding it open. I was super lucky to have an amazing good group of riders on my line and we all settled into our places off the line. I came in 1st in 250a, 3rd in A (Expert) and 11th overall in AA (Professional) with a super solid placing"*(Edited for clarity)
Congratulations Noah! We look forward to seeing you race & win again in Prescott at AMRA Round 9 on April 7th! Look for the Phoenix Internet flag flying proudly from the pit! The logos on Noah might go by too fast to see!