The question of how to get internet in rural areas is a big one for business owners. You know that you could reach customers at the national or international level with your rural business, if only you had high-speed internet available in your area. Rural internet options are often limited to satellite internet with data caps, or worse, dial-up. Phoenix Internet has figured out a better way to deliver wireless internet to rural business owners and communities, with our fixed-point wireless network. Here are the advantages of calling Phoenix Internet today: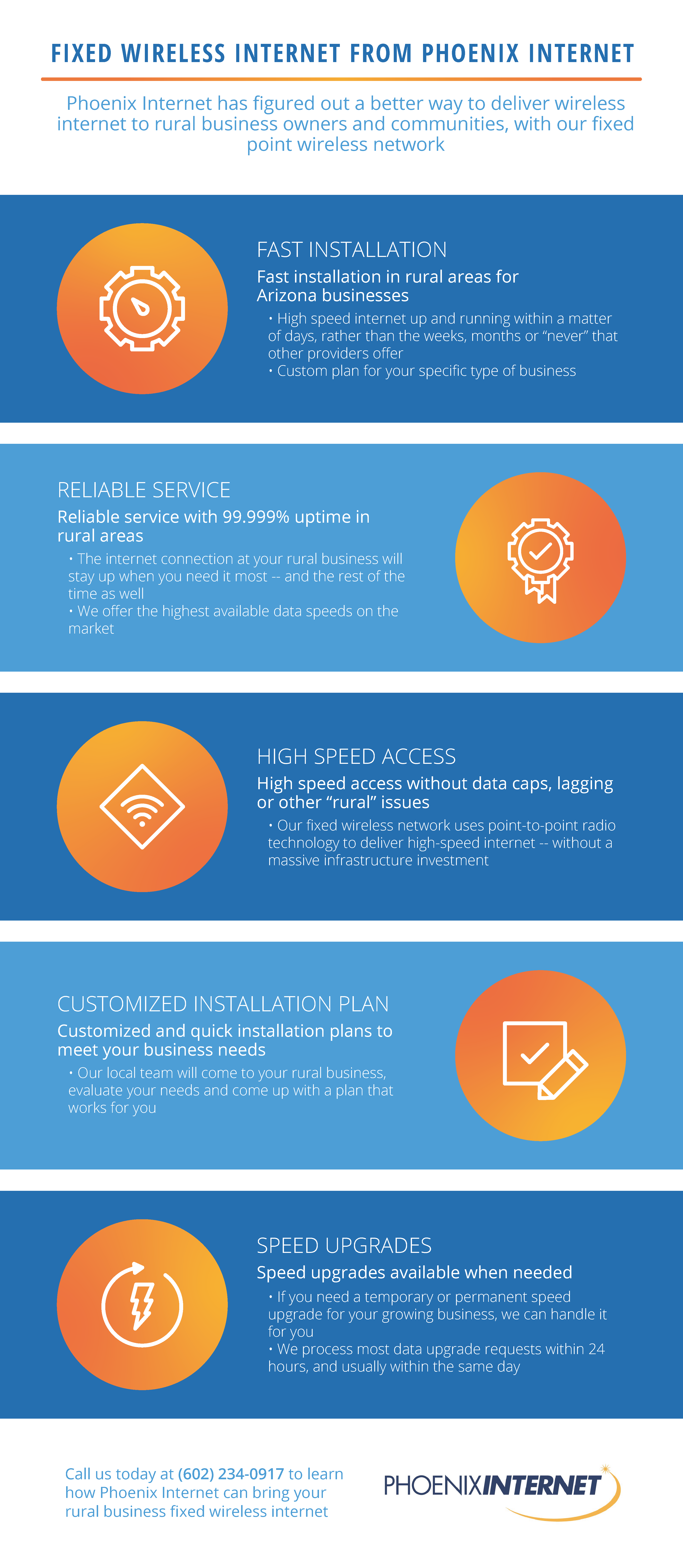 Our Network
When we say "our network," Phoenix Internet really means it. It's OUR network. We own it, we build it and we maintain it. There's nothing worse than purchasing internet access from one provider that is renting space on another company's cables. That's too much drama! Who do you call when there's a problem with your internet? Your ISP? The company that owns the cables? Someone else? With Phoenix Internet, you call us for tech support or line outages, and you'll always get someone on the phone.
Reliable and Fast
There's a very good chance that you will never actually have to call Phoenix Internet to complain about an outage because we offer 99.999% uptime to rural customers. The internet connection at your rural business will stay up when you need it most — and the rest of the time as well. We also offer the highest available data speeds on the market.
Fixed Wireless Internet in Rural Areas
Phoenix Internet doesn't rely on cables or satellites to deliver internet to rural businesses. Our fixed wireless network uses point-to-point radio technology to deliver high-speed internet — without a massive infrastructure investment. The reason there are so few rural internet options is because most companies would have to build the infrastructure to deliver service; they're measuring a multi-million-dollar infrastructure investment versus a small customer base — and rural customers are losing. Phoenix Internet has figured out a better way to deliver high-speed internet access to rural businesses without the costly overhead.
Fast Installation
We can have your rural business up and running with high-speed internet within a matter of days, rather than the weeks, months or "never" that other providers offer. Not only that, but Phoenix Internet can also work to design a custom plan for your specific type of business. Run a rural motel and need wireless internet in all of the rooms? We can do that. Do you need wireless access for a seasonal RV park? We can do that, too. Want your restaurant customers to have wireless internet while they wait for their meal? Done. Our local team will come to your rural business, evaluate your needs and come up with a plan that works for you.
Speed Upgrades
Phoenix Internet understands that your rural business might need faster data speeds at certain times of the year. Your business may get extremely busy during the tourist season, for example, or you might have a lot of "snowbird" customers in the winter months. If you need a temporary or permanent speed upgrade for your growing business, we can handle it for you. In fact, we process most data upgrade requests within 24 hours, and usually within the same day.
Fixed Wireless Internet from Phoenix Internet
Fast installation in rural areas for Arizona businesses

Reliable service with 99.999% uptime in rural areas

High-speed access without data caps, lagging or other "rural" issues

Customized and quick installation plans to meet

your

business needs

Speed upgrades available when needed
Just because your business is located in the beautiful Arizona desert doesn't mean you have to be in an "internet desert." We're standing by and ready to impress you with our fixed wireless internet for rural businesses. Contact Phoenix Internet today at 602-234-0917 so we can deliver high-speed internet to you. 
Because we provide service #WhereOthersDont