Apache Junction & Mesa, AZ- Phoenix Internet is proud to announce that we are adding multiple new resort and mobile home communities to our network in Apache Junction & Mesa! Is your community a Phoenix Internet community? It's easy to find out! Just give us a call at (602)234-0917 or click below to chat! 
In each of these new communities we're offering speeds ranging from 10Mbps to up to 30Mbps starting at $47/month.That means even with a basic package it's easy to
Switch, Stream & Save
. Many communities like these in the East Valley suffer from poor Internet service due to old infrastructure that the phone company won't replace, or lack cable which requires tearing up the streets to install. If that's your situation then
#DontSettleForSatellite
or get stuck using a hotspot with data-caps, call your community's manager or owner today and tell them you need Phoenix Internet to come to your community! We provide fast, reliable Internet service
#WhereOthersDont
!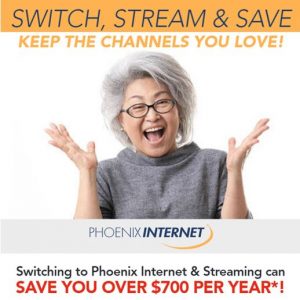 Remember: You aren't just buying resold Mediacom, Suddenlink, Cox or CenturyLink under a different brand. No. You're getting PHOENIX INTERNET.
Now, for the first time in many Arizona communities: You Have a Real Choice!
It's Easy to Get Started:
Click below to start your order, and chat or call (602)234-0917 to speak with one of our Associates.
We'll get your Internet Service ready to go and introduce you to our friends at Empire Communications who will work with you to find the perfect Streaming or Satellite Package!